e-Books
Browse all three e-Books written by Brad Mason, find more info by scrolling down below. These books can also be found at Amazon, CreateSpace, Barnes & Nobles, and institutions of higher learning.
Counseling Tools for Kids in Schools
table-of-contents-counseling-tools (click to view)
You don't have time to do research, find materials, and make a plan for your counseling sessions. Kids need more structure and support for counseling. You're busy answering calls, making schedules, filling out forms, attending meetings, doing evaluations, and making reports. You care about the kids and you want to do something engaging, productive, and useful in your time with them. They can be hard to reach and teach, children with Autism Spectrum Disorder, ADHD, or Serious Emotional Disturbance. The difficulties these children have with emotional and behavioral control can be devastating to their futures and highly disruptive in their families, friendships, and classrooms. You need ready to go forms, templates, and strategies. Lists of resources, handouts for teachers and parents, reviews of games and books that can help you help them would be great too. Either in private practice or employed in a school, just starting or just looking for more tricks and new tools,now you can get what you need. Start creating successful, observable behavioral and emotional outcomes.
Review of Counseling Tools by a school counselor:
Five Stars
"Brad shares a wide range of resources for school-aged children in a format that can be used with individual students, groups and as resources for parents and teachers. I am a school counselor and can use it as a go-to resource for most cases in schools. There are quite a few behavioral therapy ideas in here that can easily be applied in schools. All very doable and rooted in good solid theory. Included also are ideas for writing goals with lots of specific examples, a pretty large section on emotional management, which comes up quite a bit in schools. There's some really good information in here on executive skills, sensory issues and social skills, which is great since resources for school counselors are pretty sparse."
Five Stars
Verified Purchase
Very practical with easy to use activities for elementary aged students.
Five Stars
Brad shares important information on how to deal with students who need special support in dealing with their behavior choices. He provides new information on cognitive-behavioral therapy-how to change the feelings of school kids and behavior by changing their way of thinking. This book will help you overcome anxiety, depression, and create clear mental health for everyone involved.
Five Stars
By Mr. Anonymous on July 31, 2016
This book has been very informative. The strategies illustrated in the book are clear and easy to implement. I work with children and adults with disabilities and behavioral problems. These techniques are very practical and has helped my clients progress. Thank you, Brad Mason!
Click on the cover image at the top of this page to order your copy now.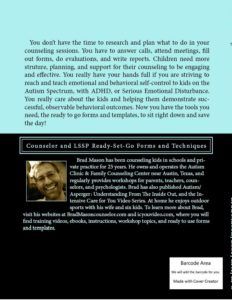 Autism/Asperger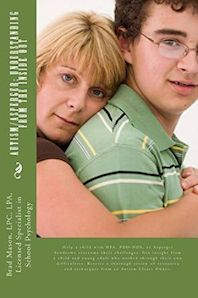 Help a child with high-functioning autism, PDD-NOS, or Aspergers Syndrome overcome their challenges. Get insight from a child and young adult who worked through their own difficulties. Receive a thorough review of resources and techniques from an Autism Clinic owner and Licensed Specialist in School Psychology.
You're tired of not knowing comprehensively what you can do to help the child who struggles with mild autism. They can be bright or even gifted academically. You don't understand why they have the same problems over and over. Troubles like tolerating school, getting stuck on what they want, hiding in video games, obeying parents, making and keeping friends, extreme emotional responses. Start understanding the thinking skills they need, what can truly help them, and watch the problems get better.
You can guide and discipline lovingly and effectively when you understand how and why they struggle.
Start investing in the future now and get no-nonsense explanation and resources you can use to help overcome obstacles and expand limits.
Five Stars
"Wow! What a fabulous and much needed resource. Easy to read and PACKED with useful information. Thank you so much, Brad, for making this available to moms like me!"
Five Stars
Mr. MASON brings understanding to parents, teachers and self to persons involved in or interested in Autism/Asperger. As a parent and teacher, I have been exposed to many behaviors not familiar to me. Interestingly enough, many of the suggestions for handling situations (or avoiding them altogether) are offered in the book that apply to "normal" behavior — whatever that is! Students and kids react to life with their own particular emotions. Mr. Mason's thoughts and facts stress that "different or unusual" may or may not indicate autistic behavior; rather he indicates that your reactions or intolerances may precipitate unruly results from children, students, adults AND yourself. This book takes some of the mystery out of life as it is.
Don't be surprised if you see your present or past personality as part of these ideas. Human nature is sometimes unflattering and uncontrollable.
Read this fine presentation and be prepared to change your outlooks!
Click on the image at the top of the page to order your copy now.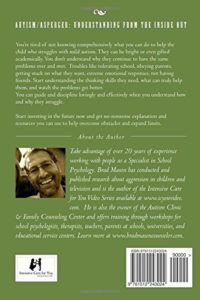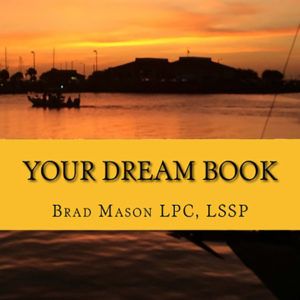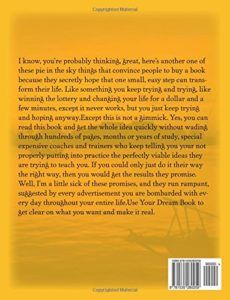 Click below to see more of Your Dream Book including beautiful images:
Your Dream Book- Getting clear on what you want and making it real, now!
Five Stars
Great help
 
Excellent workbook to get your life on track.
Save